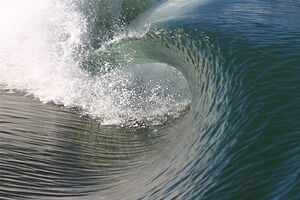 The Webber Wave Pool is a circular pool with an island in the middle, around which peel mutiple, continuously breaking, waves. The waves are generated by numerous hulls, driven along the outer wall of the pool, displacing water in the same way that a boat generates a wake. The hulls run along standard roller coaster tracks, driven mechanically from outside the pool. Nozzles on the floor of the pool direct water toward the oncoming swells. This prevents a current forming behind the waves, which would lose their power if the current were not stopped.
Promotional video
Edit
Background
Edit
The Webber Wave Pool was designed by Australian surfboard shaper, Greg Webber, who developed the technique using fishing trawlers to generate waves within an estuary.
External links
Edit
Community content is available under
CC-BY-SA
unless otherwise noted.