The first tour of the season arrived on the New Moon to an 8-foot swell, lasting a couple of days.[1] The second boat load arrived to 3-foot surf, bearly breaking past Kongs. Some of the new guys paddled out to the very end of the point. On dusk, we listened to weird sounds in the jungle, no doubt signaling what was to become a long night of monsoonal rain, which saturated everyone and everything in the camp. The swell increased overnight and by noon, we were surfing ten foot Launching Pad funneling through Speedies like the wanton love canal of Gaia ovulating.
Kong, Chappy and Kasim arrive with Jack McCoy and Spider, who had booked the camp for two weeks.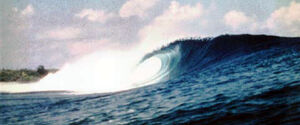 A Park Ranger drowns when a supply boat capsizes at Chickens. His body is recovered later that day and carried to the beach, where it is aligned with Mecca. For three days, the corpse remained in the camp, wrapped in banana leaves, before military personnel arrive to carry it out. On our return boat trip to Grajagan Village, the motor breaks down half way across the bay, so we have to row the rest of the way. The tide is running out and the sun is setting as we finally make it back through the river mouth.[2]
September
Edit
References
Edit
Community content is available under
CC-BY-SA
unless otherwise noted.